Dutch artist Rein Jelle Terpstra (b.1960) owns an incredible range of vernacular photographs that he collected over the years and his archive meanwhile contains approximately 55.000 images altogether, from which appropriations evolve that are concerned with perception of history.
Terpstra's latest publication, 'Dark Dunes', consists of a series of negatives which originally belonged to an anonymous amateur photographer who took rather mundane pictures in the Netherlands between 1938 and 1946 – including the years, of course, in which the country suffered from Nazi-German occupation. Yet the images themselves show exactly nothing of the tumultuous era from which they arrive, and of which they are fragments.
Think of 'World War II' and what do you picture? Most likely, not what is to be seen in 'Dark Dunes': still life, flowers, serene landscapes. Vistas and picturesque scenes which seemingly address a formal interest in photography and these images are clearly, by their sheer subject, far removed from the daily news and current affairs of the time in which they were made. Surely, one must assume, this amateur photographer – male or female (it is not comment upon) – was aware, to at least a minimum, of the heated socio-political conditions the world at large was suffering from?!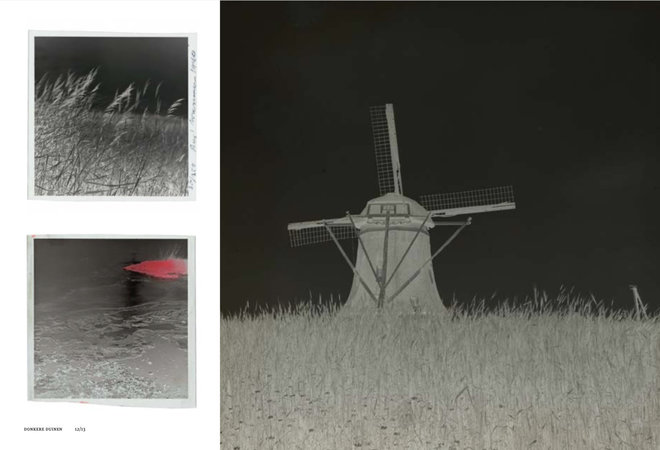 This carefully composed booklet- including a deliberate presentation of negatives which sublimate the rather mundane pictures, a smart edit with effective duplications, French-folded pages,­­­ designed by renowned publisher Willem van Zoetendaal, also contains a few original (scanned) front pages of Dutch newspapers that were published in the same period from which the amateur photos arrive. The latter clearly at odds with the historic events and indicating, alternatively, another kind of reality informed by an uncontaminated, purely aesthetic interest.
One can imagine the (perhaps also playfully suggested) following situation: reading the headlines while enjoying breakfast, the anonymous person in question then folded the pages in order to continue his/her activities with a country side tour, camera at hand and seemingly free to move around. 'Dark Dunes' presents the work of someone who was clearly a diligent 'nerd'. Not only did the photographer tally dates and locations but (s)he also specified technical details such as camera device and shutter speed in the margin of each negative. Even the exact hour of the day and weather conditions are addressed.
The wide variety of mundane experiences were not necessarily vacuumed by the 'war' situation of the 1940s. A trivial scope which might seem oblivious yet such a banality is not unfamiliar: while drained with media reports on 'the virus', probably most of our smartphone-produced pictures taken during 'Covid-19, stage 1' will contrast with future commemorations of this period. Those candid images will likely index the spectacular sunny Dutch pre-summer days of 2020, rather than including any hints from the news reports concerned with a global pandemic running parallel with our daily, and very local lives.
Think of 'World War II' and what do you picture?
Back to 'Dark Dunes'. "This series of negatives is questioning how photography can conceal the reality, instead of revealing it, and can be escapistic, instead of engaging," reads the introduction on the publishers' website. Or is it, in a way, also to be considered 'war photography', simply because it was produced in wartimes? In an accompanying essay, writer/photographer Wilco Versteeg who, as an academic, specialised in conflict photography in the context of truthfulness and reliability makes a casual remark about the eminent German philosopher Martin Heidegger, as he notoriously turned a blind eye towards the Nazi-reality that he too was inevitably absorbed with. Leaving aside Heidegger's political position: he simply lived at the time. Likewise, 'Dark Dunes' serves as a modest reminder of how reality really functions for a human being. That is, the earth beneath our feet and the environment which directly encultures our bodies is quotidian, at any given time.
'Dark Dunes' is printed in a limited edition of 300 copies and can be ordered directly from Rein Jelle Terpstra: mail@@reinjelleterpstra.nl