Maria Lax is a London-based photographer with a background in cinematography, which influences her photographic oeuvre highlighted with precise use of colour, and an amalgamation of fantasy and reality. In 'Some Kind of Heavenly Fire', her first monograph, she returns to her roots, a small town in Northern Finland which was initially a hotspot for UFO sightings in the 1960s. Lax, who only got to know about the supernatural events once she was going through her grandfather's book dedicated to the UFO sightings in the area, approached people who had seen mysterious lights in the past - in addition to collecting newspaper archives and adding her own images from the family albums to the mix.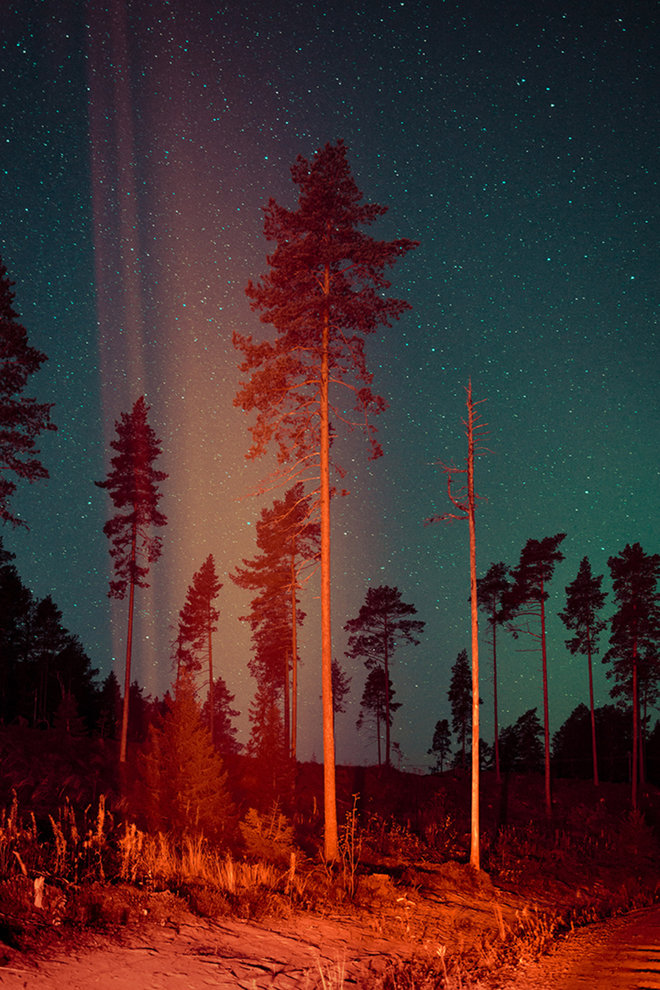 The rapid industrialisation in the 1960s and 1970s, forced people to move from small towns to cities in order to support their families and have sustainable jobs. Consequently, some towns lost nearly half their populations, drastically changing the lifestyle in them. Lax describes it as a painful and uncertain time similarly as with the UFO sightings, evoking both fear of the future and the unknown.

The locations depicted in the book are familiar places Lax frequently visited during her childhood years. When approaching the inhabitants of her hometown, still deeply religious, they all described similar accounts of their sightings: colourful lights following cars or people walking home alone. In an interview with The Guardian, she explains that "the lights would be silent, pulsating in different colours before disappearing into the sky. Sometimes bright lights would wake people up in their homes in the middle of the night – and would again vanish without a trace."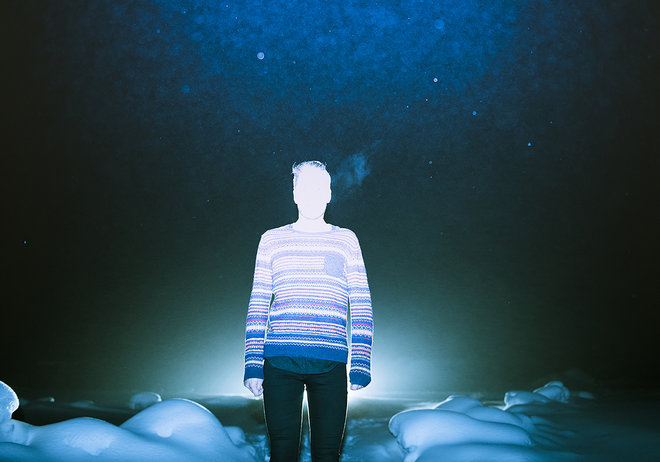 The title of this artist book is a quote from her grandfather's book where an account of an older woman is outlined. It states that she saw what looked like a forest on fire, an otherworldly experience, she called it "some kind of heavenly fire".
Besides traversing the archives with experiences of the present and hopes for the future, Lax cleverly interplays text and image in the form of personal notes that are sometimes hidden underneath loosely attached photographs. Some pages of the book – through image clippings and personal notes – remind of an evidence board one would imagine in the office of a detective. Lax's notes are seemingly in line with the functioning of a voiceover, providing a personal touch (adding to this symbiosis of text and image) to a publication that vibrates a tension not unlike a Nordic thriller TV-series.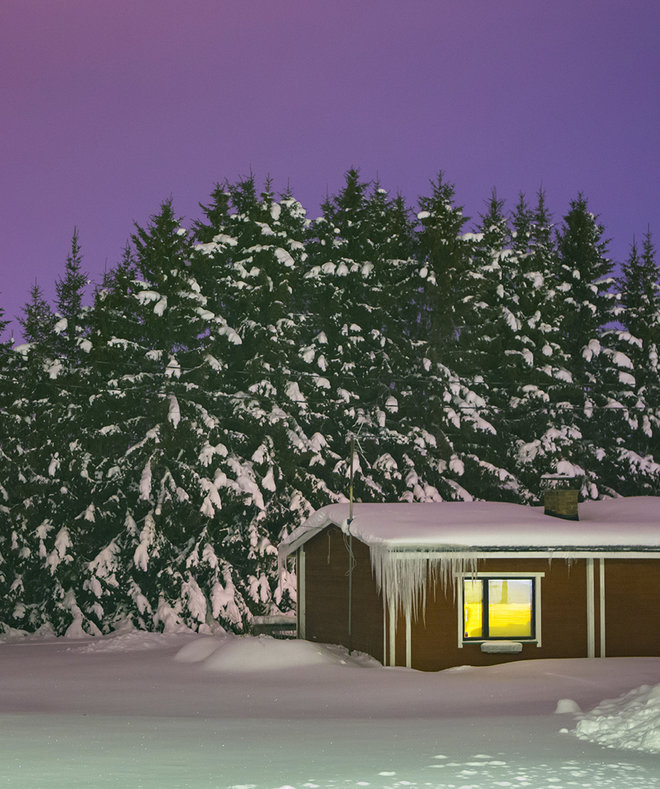 What happens when the conventional accuracy of the photographic image is disguised and obscured? Lax's arresting use of light and colour transform the way we think about the world's solidity and instead, she turns it into something much more atmospheric and ethereal. Isolation, secrecy and mystery highlighted with cinematographic visuals through the use of photography re-shape the Northern woodlands into an epicentre of extraterrestrial communication.
What are we seeing exactly – a religious myth, an illusion with social impact or a physical circumstance? In 'Some kind of Heavenly Fire', Lax's vibrant imagery invites the viewer to bridge the gap between earth and cosmos. Loosen from time, place and actuality, her series forms an outer and inner worldly spectacle that follows an ambiguous narrative. Consequently, the audience is provided with space to form their own truth about Lax's immersive and enigmatic world.