GUP has turned 10! We've worked with a lot of great photographers over the years since we got started on the magazine, and our anniversary is the perfect time to look back on how things have developed. In this series of interviews, we asked ten photographers that GUP has had the pleasure of working with to reflect with us on changes in their own careers, and in photography at large.
David Favrod (1982) is relatively new on our radar, having first shown his work on the GUP website in 2011, but his intriguing images, tackling the subject of his joint Swiss and Japanese heritage, have made their mark on the international photography scene. Rejection, identity and memory are frequent themes in his work and since his series Gaijin was announced as one of the finalists of burn magazine's Emerging Photographer Fund in 2013, he has won numerous awards. Gaijin was also featured in GUP#39, the Utopia issue.
Could you select one photo that represents your earliest work, and one that represents your recent work? What do you consider the most important development in your work between then and now?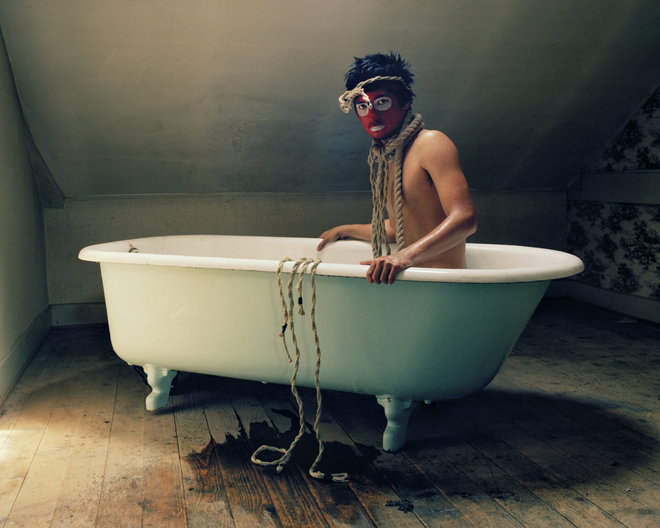 1. Autoportrait en poulpe, 2009
I guess the most important development in my work is that now I don't restrain myself with only photography. When I started, my question was, "ok how can I tell this story with photographs?" And now my question is just "how can I tell this story?" Even if my medium of predilection is photography (I still shoot analogue) I'm really open to mix the medium using painting to represent sound (onomatopoeias), using video, drawing, etc. I need to push the boundaries to find the right/best way for what I want to show/express. I'm always trying to find the best solution for each picture.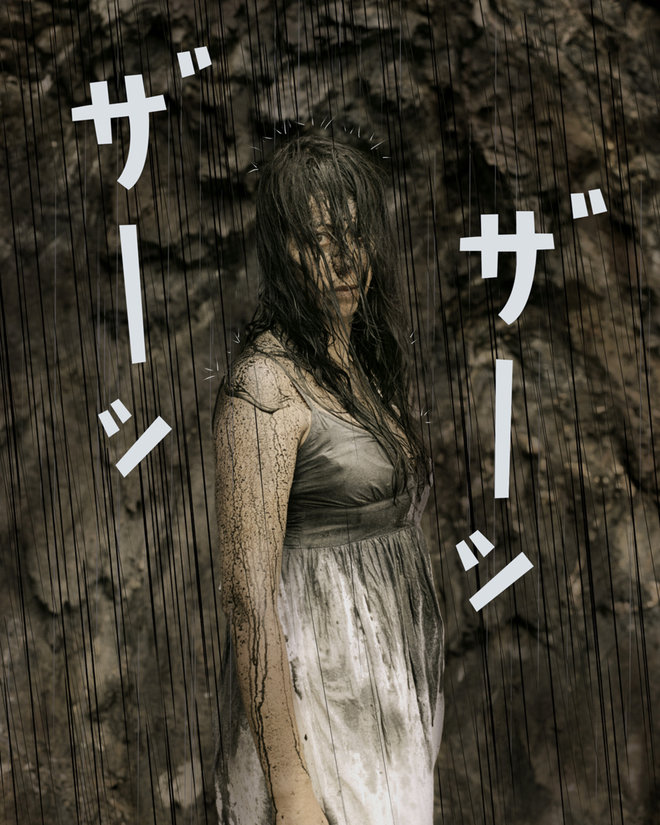 2. Pluie noire, 2014

Tell us about a person who had a big influence on your work, in terms of a big break through or opportunity.
If I just have one name to give you I would probably say Pierre Fantys. When I started art school (ECAL/École Cantonale d'Art de Lausanne), I was involved in the industrial design section. In the preparatory year, we had other courses like graphic design, photography and cinema. After the first semester Pierre Fantys, who was the head of the photography department, asked me to move into his department. I'm really grateful to him for giving me this opportunity 10 years ago.
Have there been any developments in photography that forced you to rethink or reshape the way you work?
I guess I'm always influenced by what I see every day through my research, but I'm really not forced to rethink or reshape the way I work by any specific developments. My process is always to start a new project from my previous work, like a continuation. Actually, all my series are linked: there are lots of connections between them. I also always introduce the next series in the one I'm already working on. Trying to push my practice a little bit further step by step with the addition of new ideas, but always in correlation with my previous works. That's really important for me.
Actually, all my series are linked... I always introduce the next series in the one I'm already working on, trying to push my practice a little bit further
Your work is autobiographical in nature, though your images are revealing about yourself and yet mysterious all at the same time. How do you decide on the right balance?
For me, memories are fictions, so from this idea, the balance comes very naturally. If I ask you to tell me who you are, you will explain the most important things you think I need to know about you. But even with that I don't know who you are. I'm sure you will not tell me the things you are not proud of, or that you wished not to do, and that's the same for the memory. The memory is easily malleable. If I can't describe to you what I have done yesterday in all its complexity, how can people explain memories to me from 10-25 years ago? I really like this question and walking in this thin line that separates the fiction from the reality.
As an additional treat for our readers, an exclusive print by David Favrod is included in our special sale of limited edition signed and numbered prints from 10 artists!
Buy a limited edition print from David now in our online shop.
See more in our archive from David Favrod. Buy GUP#47, the Big Ten Issue here.