Lewis Khan (b.1990, the UK) is a fine art and commercial photographer from London, working with stills and moving image. His portrait-based work is a study of emotion, relationships, and identity. Khan's photographs are intimate, and his process reveals his search to understand the commonality of what makes us human. Khan's latest project and book 'Theatre' is situated in the context of the contemporary landscape of UK healthcare and reflects on the potential privatisation of the NHS in addition to the universal human qualities of strength and fragility.
'Theatre' reflects on four years spent in the two general London hospitals: The Chelsea & Westminster and West Middlesex. Image-wise, Khan provides us an intimate view on the professional lives of surgeons, scrub nurses, matrons and even gives stage to the operating table itself. He additionally, focuses on the lesser seen aspects of the hospital - cleaners, visitors, staff rooms, bed bays, curtains and things left behind.
The project, therefore, presents a perspective on the people who define "the hospital", and the fabric of their environment. This all-encompassing approach both pairs and juxtaposes the clinical with the sentimental, seeking to deepen our understanding of the fundamental themes running through healthcare and its environment, such as mortality and well-being.
In an interview with GUP, Khan talks about his project and reflects on his experience in the hospitals.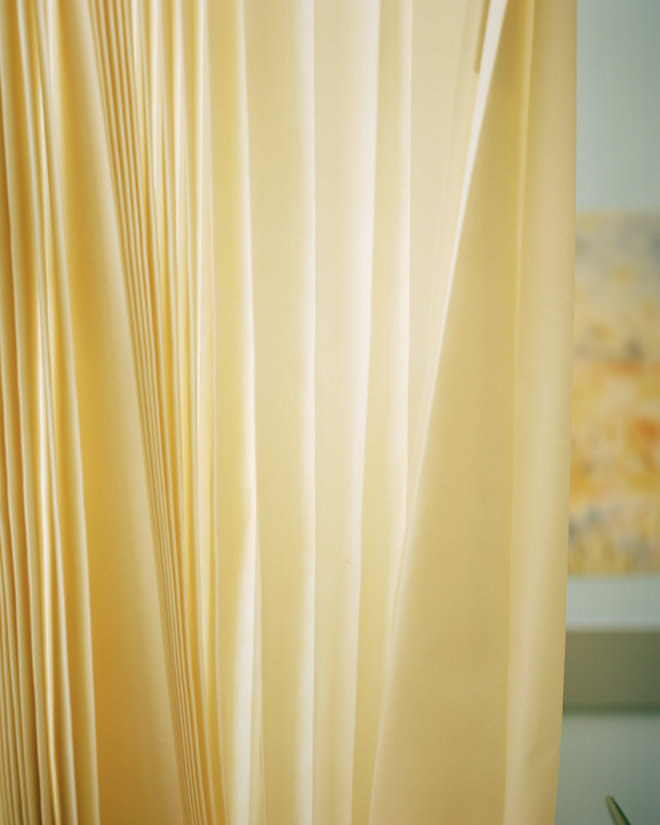 Could you please describe your photography process to our readers? How was it for you to try to blend in with the hospital environment?
I would generally be partnered up with a particular member of staff in a particular department at any one time, and my approach was to shadow that member of staff for a while before bringing a camera to the hospital. Sometimes that shadowing process would be for a long time, sometimes not so long, but it was all about assimilating myself to the environment - trying to understand some of the ebbs and flows both physically and emotionally.
Then only when it felt right, I would bring my camera along, and bit by bit start taking photos.
I would take time for reflection on what I was doing too, maybe shooting for a couple of days, and then going and having to get the film processed was a good natural pause, looking over that, coming back to it, thinking about what to do next.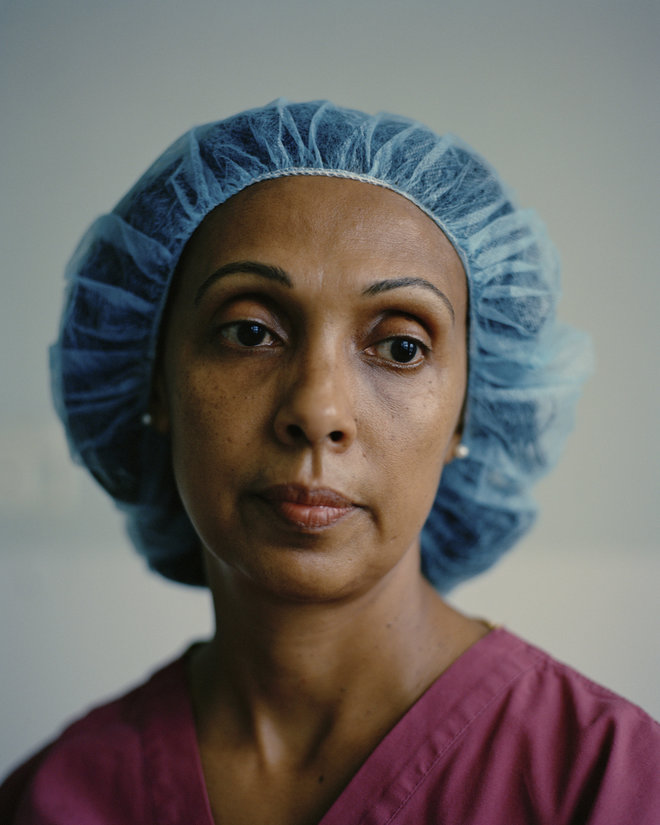 In 'Theatre', you avoid sensationalist or superficial depictions as one would expect from the often-mediated hospital images. What photography approach did you opt for instead and how did you manage to achieve it?
I think what I was trying to represent was what I found to be authentic and reflective of my experience in the hospital. After all, within photography, this is the only truth. So, in order to get to that point, I had to spend time digesting the environment to understand what it was I felt about that place and what I wanted to say. This was a process that took time, work and reflection.
The immediate themes I arrived at within the project are mortality and well-being, strength and fragility, the clinical and the sentimental. These are what I mentally distilled the hospital and its environment down to, and what I subsequently used as a working guide for myself. The hospital is a very juxtaposed place and whatever extreme might exist is balanced with an opposite extreme right alongside it, so this idea of themes in dichotomy really made sense to me.
I also felt strong parallels between what I had understood of the hospital itself, and what I had understood of the political decisions being made around the system that governs it; government underfunding of the service purposefully driving it into the ground to allow private companies to swoop in. The NHS is in a very fragile and precarious state yet remains the backbone of the country, made strong by the diverse population for who working within it is a vocation as much as a job.
Within the photos themselves, there are elements of resilience, beauty, and fragility. I think to focus on just one of these elements would be to make something superficial, and so I hope through this combination there is an authenticity about what the work is celebrating, and also what stands to be lost.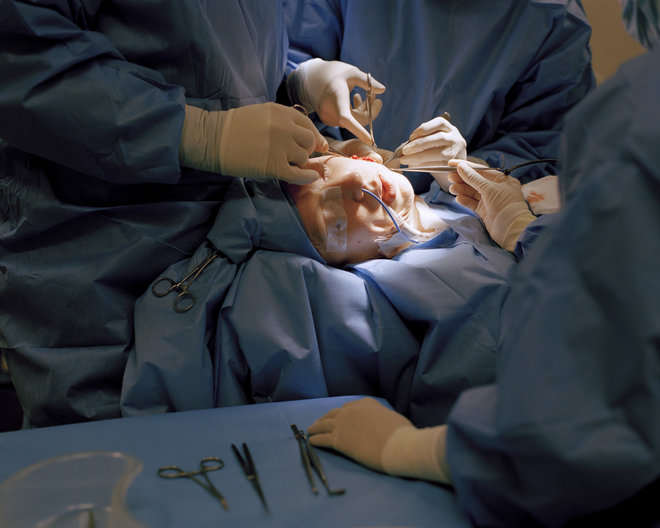 You spent four years in the two general London hospitals. What did this experience bring you?
Working in the hospital definitely sparks a lot of existential thoughts about life, health, your body, your mind. And I felt very present within myself when making this work.
It's an environment in which the protections of day-to-day life are peeled back and elements like vulnerability and care are encountered very viscerally. This was a greatly powerful experience, and it's why I've kept coming back to the concepts of strength and fragility as a means to frame the work. Both of these notions were felt so strongly across all walks of life and status that they're what I have used as a window into the human experience.
Due to the current outbreak of the coronavirus, the importance of a well-operating healthcare system became crucial for the functioning of our society. What impact would you say this crisis has on your work?
I'm not sure if my relationship to the images has changed in light of COVID-19, the issues that first motivated me to make this body of work are and have been ongoing the whole time; government underfunding of the service, driving it into the ground to allow private companies to swoop in, that's not new. But what COVID-19 has done more widely is put into sharp focus how much we all need and rely on the NHS and how mistreated it's been by the government - if there's any silver lining at all, it's that hopefully, people won't stand for this anymore.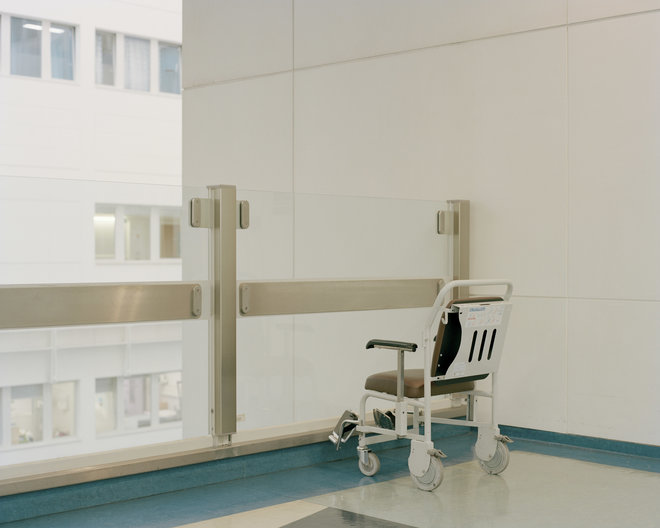 'Theatre' has been turned into a book form with 100% of its sales being donated to the NHS. How do you look at this whole experience back and what would you say is the main goal of your book?
The book has been in the pipeline for quite a while now, I first discussed the idea with Lee Elkins from The Lost Light Recordings in 2017.
For me, this work is less about individual images and more about a collection. There are lots of quieter images that maybe wouldn't work big on a wall or be in the five that got submitted for a competition etc. but are important images reflective of my voice and approach to shooting in the hospital. The book format allows for this collective viewing and for all of the images to have the right rhythm and impact.
We've had the plan since last year to launch the book in May 2020, but with COVID-19 we initially postponed all that. Then we thought why not just launch as we had planned, the work is a timely celebration of the NHS, and with the donation, it's nice that this book can be something that supports back.